Setting up an Account with Acuity
Acuity is the scheduling system where you'll be booking your appointments.
There are two ways to use Acuity- you can register for an account; or by default, you will be logged in as a "guest".
I highly recommend registering for an account… it'll make it simple to track and manage your appointments!
How do I register for an account?
During the process of booking a session, you'll see a button that says "register for an account".

Click on that button, and you'll be prompted to set up a user name and password.

You'll then simply log in to your account by navigating to https://acuityscheduling.com each time you want to book  a session, or see what you have coming up.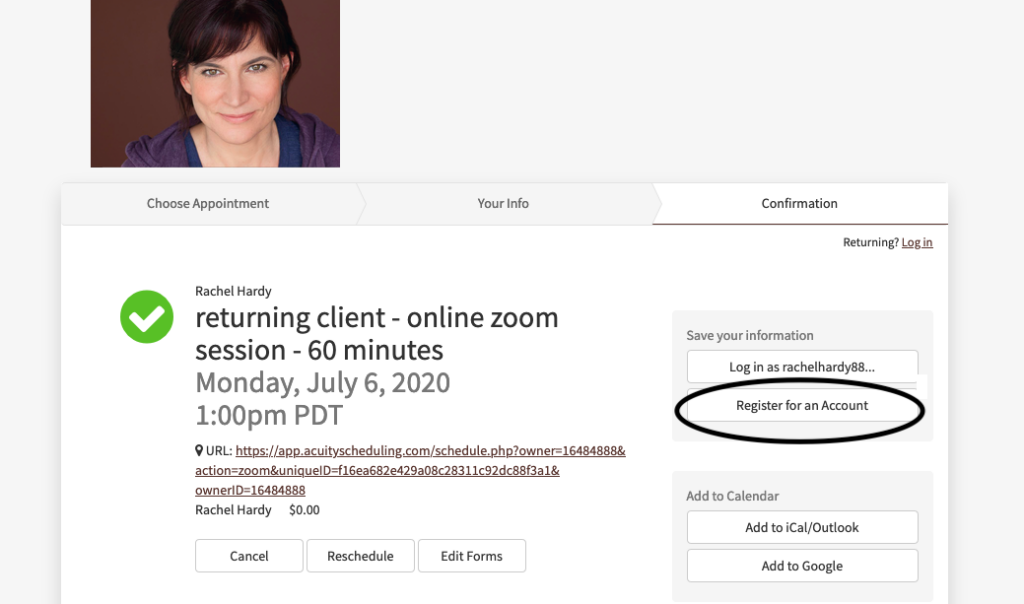 Alternate method to set up an account:
If you've already booked a session, you can open up any one of your confirmation or reminder emails.
Scroll down to the brown button that says "Cancel/ Change appointment" and click on that.
You'll be taken to the screen you see above, that gives you the option to Register for an Account.
Click on "Register for an account" and follow the prompts to set up a password

How do I reschedule an appointment?
Log into your account at acuityscheduling.com and you will see a list of "Upcoming Appointments". Click on any appointment date, and you will see an option to "Reschedule".
OR, you can reschedule by opening your confirmation or reminder email. Scroll down to the brown button that says "Cancel/ Change Appointment". Click on that and reschedule your session.
How do I use my package to pay for a session?
You can use either the code you received at checkout, or your user email address. Click on the button that says "redeem coupon or package" and enter your email or your code.
How do I check what I have already booked?
How do I know my booking/ rescheduling went through?
You will receive a confirmation email each time you successfully book or reschedule an appointment.

 
What if I have further questions not answered here?
Testimonials
The wisdom, guidance and clearings that came through in my sessions were incredible. Rachel helped me open my heart to trusting that my heart knows and what it is telling me…this was a potent session in shifting and clearing energy held in the body.I'm able to connect with and trust my heart wisdom much more.
As an intuitive myself, I could instantly feel that Rachel was going to hold an incredibly loving sacred space for our sessions together.
Rachel creates a spaciousness that allows clarity and insights to be reached rapidly… my sessions helped me to shift a really sticky and challenging situation, reset at cellular level, and align with my deeper truth.
My headaches and migraines have lessened in frequency and intensity, (even while work and life circumstances have become more stressful externally)…this is a clear departure from past pain patterns that have consistently shown up with periods of stress. I've found myself saying "this would have been a migraine" many times.
In addition, I've noticed that my relationships have improved….I'm more able to be around the changing energy of the people in my life without absorbing their energy like a sponge.
I feel much more in touch with my body and grounded. I also noticed my reactions have slowed down, so I'm able to have more space between myself and my triggers.
Perhaps the biggest shift was my expanded capacity to love myself…I feel more love for myself on a visceral and emotional level.
I have a new arsenal of somatic tools that help me to ground, get centered, and move energy when I need to. I am also able to connect with my heart much more easily
Working with Rachel is such a delight! She is so calm, caring, loving, non-judgmental, and wise. It was such a safe space for me to be nurtured and supported.